Guidelines and Protocols Committee
Guidelines and Protocols Committee
University is maintaining its level of preparedness in all respects to carry out the academic activities after lock down, following necessary advisories/guidelines/directions issued by the Central/State Government, MHRD or UGC from time to time to prevent the spread of COVID-19.
With the special reference to Institution of higher learning and its activities, comprehensive guidelines and protocols are prepared for offices, Directorates, Institutes / Colleges / Schools / Departments, class rooms, laboratories, hostels, mess, canteens, playgrounds, research farm, auxiliary units, stores, official residences etc.
Guidelines and protocols are to be religiously followed and monitored by the Committee, when lock down is over and University is fully functional.
The committee -
| | | |
| --- | --- | --- |
| S. No. | Name | Membership |
| 1. | Pro Vice Chancellor (Administration) | Chairman |
| 2. | Pro Vice Chancellor, PMD | Member |
| 3. | Registrar | Member |
| 4. | Finance Comptroller (Offg.) | Member |
| 5. | Director, Administration | Member |
| 6. | Director Student Welfare | Member Secretary |
| 7. | Chief Proctor | Member |
| 8. | Deans of Institute/College/School | Member(s) |
| 9. | Chief Wardens (Men's & Women's Hostel) | Member(s) |
| 10. | Head, Department of English | Member  |
GUIDELINES REGARDING REOPENING OF THE UNIVERSITY IN VIEW OF COVID–19 PANDEMIC AND SUBSEQUENT UN-LOCKDOWN
A. Advisories to Agricultural Universities during COVID-19 pandemic
The COVID-19 pandemic has posed an unprecedented situation and new challenges for education being offered in various universities across the country. The apex educational body of the country viz., UGC, AICTE and ICAR have taken several immediate measures to ensure the continuity in teaching–learning processes so that students don't suffer academically. As a part of these initiatives, based on UGC guidelines for the Universities in view of COVID-19 pandemic situation, the SHUATS administration has laid down the following advisories:
1. Role of Proctorial Board of University with University Medical Staff:
Whenever, the University reopens, checking of ID cards, installation of Aarogya-Setu App in mobile phones of all students and staff members upon entry into campus, along with mandatory check-up of body temperature with non-contact thermometers for all, will be a must.
2. Role of Office of Director Student Welfare and their staff:
The students and faculty members coming from red/orange zones to Prayagraj will be advised to undergo home quarantine following the guidelines of Ministry of Health, Govt. of India for a requisite period.
3. Role of Medical Superintendent and his committee:
(a)
Medical Superintendent, Hayes Memorial Mission Hospital, SHUATS, will form a committee, and will share their contact numbers with all Deans so that Deans can contact the committee members as and when required.
(b)
Facility of rapid test/emergency response to be planned and provided by Medical Superintendent in case of any reported event.
(c)
Deputation of hospital staff at every gate of the University wearing full
Personal Protective Equipment
(PPE) for mandatory check-up of body temperature with non-contact thermometers for all.
(d)
Students and faculty members should be advised to adhere to social distancing and general hygiene rules inside and outside university campus in their day to day life to avoid any mishap in light of prevailing pandemic situation.
4. Role of College-wise Committee formed by Deans of different colleges:
(a)
Proper social distancing and use of face mask norms will have to be followed as health and safety of students and staff is important for smooth running of the university.
(b)
Initially, students will be allowed in the University only for attending practical and research work.
(c)
Building superintendents will ensure the availability of hand sanitizers / soaps and hand-washing facilities for all classes/ laboratories/ libraries of the respective building.
(d)
Students will be discouraged to share personal effects such as bags, pens, copies, books and mobile phones
etc.
with each other inside and outside university.
5. Role of Chief Warder and his/her team:
(a)
Gatherings at hostels/ canteens/ classrooms/ playgrounds/ mess/ laboratories / libraries / research farms,
etc.,
should strictly follow social-distancing norms. Avoidance of gathering (three or more persons) inside the campus will be enforced.
(b)
In order to reduce contact and to achieve zero contact goals, take-away or self-service facilities to be provided at University canteens and hostel mess.
6. Role of Workshop Manager and his team:
(a)
University workshop should ensure general cleanliness of the academic and residential campuses, placement of dustbins and removal of garbage on a daily basis.
(b)
Adherence to general cleanliness rules and sanitation practices, inside campus is to be overseen by members of University Security Committee, Proctorial board members, NSS officers, DSW and staff for monitoring each building/ college / classroom,
etc.
, and they have to inform the workshop manager or his team member list provided by workshop manager.
(c)
Indoor areas such as office spaces including conference rooms should be cleaned every evening after office hours or early in the morning before the rooms are occupied. If contact surface is visibly dirty, it should be cleaned with soap and water prior to disinfection. Prior to cleaning, the worker should wear disposable rubber boots, gloves (heavy duty), and a triple layer mask.
7. Cleanliness of Toilet / Building:
1.
Dean/Head of the Department will form a committee to check and ensure the cleanliness of washroom and collection of building garbage daily on priority basis.
2.
Use of bleaching powder/sodium hypochlorite/Lizol, etc., for different offices, classrooms, laboratories, corridors sanitation to be ensured by the respective building superintendent.
3.
Assigning janitor for buildings for general mopping and cleaning along with bathroom/lavatory sanitation preferably thrice in a day.
4.
All indoor areas such as entrance lobbies, corridors, staircases, escalators, elevators, security guard booths, office rooms, meeting rooms and cafeteria should be mopped with a disinfectant with 1% sodium hypochlorite or phenolic disinfectants. The guidelines for preparing fresh 1% sodium hypochlorite solution are in
Annexure I.
5.
High-contact surfaces such as elevator buttons, handrails/handles and call buttons,  handrails,university fee counters, etc., intercom systems, equipment like telephone, printers/scanners, and other office machines should be cleaned twice daily by mopping with alinen/absorbable cloth soaked in 1% sodium hypochlorite. Frequently touched areas like tabletops, chair armrests, pens, diary files, keyboards, mouse, mouse pad, tea/coffee dispensing machines, etc., should specially be cleaned.
6.
For metallic surfaces like door handles, security locks, keys, etc., 70% alcohol can be used to wipe down surfaces where the use of bleach is not suitable.
7.
Hand-sanitizing stations should be installed in office premises (especially at the entry) and near high-contact surfaces.
8.
Sanitary workers must use a separate set of cleaning equipment for toilets (mops, nylon scrubber) and a separate set for sink and commode. They should always wear disposable protective gloves while cleaning a toilet.
8. Role of Heads of the Departments
1.
Heads should ensure that practical classes are conducted in small groups of not more than 20 students at a time, following social distancing and use of face mask.
2.
In the meeting/conference/office room, if someone is coughing, without following respiratory etiquettes or mask, the areas around his/her seat should be vacated and cleaned with 1% sodium hypochlorite.
Sr. No.

Areas

Agents/ Toilet cleaner

Procedure

1.

Toilet pot /commode

Sodium hypochlorite 1% / detergent soap powder / long handle angular brush

a. Inside of toilet pot/commode: Scrub with the recommended agents and the long handle angular brush.
b. Outside: clean with recommended agents; use a scrubber.
2.

Lid/ commode

Nylon scrubber and soap powder/detergent 1% Sodium Hypochlorite

a. Wet and scrub with soap powder and the nylon scrubber inside and outside.
b. Wipe with 1% Sodium Hypochlorite
3.

Toilet floor

Soap powder /detergent and scrubbing brush/ nylon broom 1% sodium hypochlorite

a. Scrub floor with soap powder and the scrubbing brush
b. Wash with water
c. Use sodium hypochlorite1% dilution
4.

Sink

Soap powder / detergent and nylon scrubber 1% sodium hypochlorite

a. Scrub with the nylon scrubber.
b. Wipe with 1% sodium hypochlorite
5.

Shower area / Taps and fittings

Warm water, detergent powder, nylon scrubber, 1% sodium hypochlorite/ 70% alcohol

a. Thoroughly scrub the floors/tiles with warm water and detergent
b. Wipe over taps and fittings with a damp cloth and detergent.
c. Care should be taken to clean the underside of taps and fittings.
d. Wipe with 1% sodium hypochlorite/ 70% alcohol
6.

Soap dispensers

Detergent and water

a. Should be cleaned daily with detergent and water and dried.
Note:
1.
70% alcohol can be used to wipe down surfaces where the use of bleach is not suitable,
e.g
., metal. [Chloroxylenol (4.5-5.5%)/ Benzalkonium Chloride or any other disinfectants found to be effective against coronavirus may be used as per manufacturer's instructions]
2.
Always use freshly prepared 1% sodium hypochlorite.
Annexure – I
Guidelines for Preparation of 1% sodium hypochlorite solution
| | | | |
| --- | --- | --- | --- |
| Sr. No. | Product | Available chlorine | Concentration (1 %) |
| 1. | Sodium hypochlorite – liquid bleach | 3.5% | 1 part bleach to 2.5 parts water |
| 2. | Sodium hypochlorite – liquid | 5% | 1 part bleach to 4 parts water |
| 3. | NaDCC (sodium dichloride isocyanurate) powder | 60% | 17 grams to 1 litre water |
| 4. | NaDCC (1.5 g/ tablet) – tablets | 60% | 11 tablets to 1 litre water |
| 5. | Chloramine – powder | 25% | 80 g to 1 litre water |
| 6. | Bleaching powder | 70% | 7g  to 1 litre water |


Annexure II
Steps in Hand Hygiene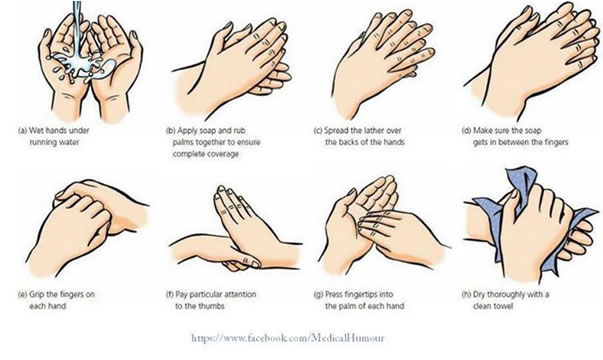 Annexure III
Guidelines for the use of face mask
1. The correct procedure of wearing triple layer surgical mask 
2. Perform hand hygiene
3. Unfold the pleats; make sure that they are facing down.
4. Place over nose, mouth and chin.
5. Fit flexible nose piece over the nose bridge.
6. Secure with tie strings (upper string to be tied on top of head above the ears –lower string at the back of the neck.)
7. Ensure there are no gaps on either side of the mask, adjust to fit.
8. Do not let the mask hanging from the neck.
9. Change the mask after six hours or as soon as they become wet.
10. Disposable masks are never to be reused and should be disposed of.
11. While removing the mask great care must be taken not to touch the potentially infected outer surface of the mask
12. To remove mask first untie the string below and then the string above and handle the mask usingthe upper strings.
13. Disposal of used masks: Used mask should be considered as potentially infected medical waste. Discard the mask in a closed bin immediately after use. 

ANNEXURE IV
Maintain safe behavioural practices
We have all had to make significant behavioural changes to reduce the spread of COVID-19. To reopen our university, we will need to continue these practices:
1. Social distancing (specifically, staying 6 feet away from others when you must go into a shared  space)
2. Avoid use of others personal effects.
3. Frequently washing hands or use alcohol-based (at least 60% alcohol) hand sanitizer when soap and water are not available
4. Wearing cloth face coverings
5. Avoiding touching eyes, nose, and mouth
6. Staying home when sick
7. Cleaning and disinfecting frequently touched objects and surfaces. It's important to continue to follow administrative guidelines, and local guidance for reopening university. Check this resource for updates on COVID-19. This will help you modify your plan when the situation changes.
Dr. Tarence Thomas                                                               Prof.(Dr.) S.B. Lal
Director Student Welfare &                                                        Pro-Vice-Chancellor (Administration) &
Member Secretary                                                                    Chairman